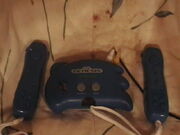 The Sega Genesis Arcade Motion Dual was a 2-player wii like plug and play TV game released in 2010 and contains 40 games.
The unit has a SD card slot to play Sega Genesis ROMs (must be a BIN type file).
The plug-n-play game was sold at Walgreens drugstores for a very short ammount of time.
A Deluxe model with 70 games and controller attachments was recently released.
Built-In Games
Edit
Sega Mega Drive
Alex Kidd
Arrow Flash
Bonanza Bros.
Columns
Columns 3
Crack Down
Dunegon Castle
Deathtrap
Electric City
Ecco
Fatal Labyrinth
Flicky
Mean Bean Machine
Ristar
Sonic Spinball
Sonic The Hedgehog 2
The Ooze
Arcade Games & SD Card
Air Hockey
Bomber
Bottle Taps Race
Cannon
Checker
Chess
Curling 2010
Fight or Lose
Fish Story
Hexagonos
Jack's Pea
Jewel Magic
Mr. Balls
Naval Power
Plumbing Contest
Snow Boarding
Spider
Wall Breaking
SD Card (use 2 GB SD card with BIN type Genesis/MegaDrive ROMs)
Interactive Sports Games
Baseball 101
Bowling Alley
Casual Fishing
It's T-Time
Joy of Ping Pong
Tennis Challenge
World Of Boxing
Community content is available under
CC-BY-SA
unless otherwise noted.