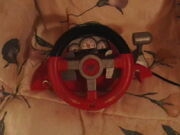 Cars 2
is a Plug It In & Play Racing Video Game based on
the Disney/Pixar movie
released by Jakks Pacific in 2011. The steering wheel controller has a key on/off switch, drift buttons, and horn button.
The racing game contains fifteen levels (including the tutorial) with boss battles.
Tokyo - Tutorial
Tokyo - Downtown
Tokyo - Countryside
Tokyo - Freeway
Tokyo - Trouble
Tokyo - Runway Escape
Porta Corso - Harbor
Porta Corso - Town
Porta Corso - Coastline
Porta Corso - Chase
London - Park
London - Main Street
London - City
London - Dash For Mater
London - Professor Z Pursuit
The box states that there are "18 Fun Games Built Inside" however, there are only 15 and are part of the only main game.
Community content is available under
CC-BY-SA
unless otherwise noted.