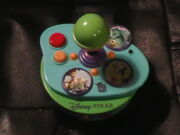 Disney/Pixar Classics
is a Plug It In & Play TV Game released in 2006 & reintroduced in 2010 by Jakks Pacifc and developed by Handheld Games LLC. The controller features five games based on three Pixar movies, it includes two Toy Story games, two Monsters Inc. games and one A Bug's Life game.
Games built in
Edit
Sarge's Drill Team
Sarge tries to get his troops to the flag by avoiding obsticales.
Moving Day
Woody and Buzz are on R/C, and have to make it to the moving van while avoiding Scud.
Flik's Food Finder
Flik has to find the food and take it to the offering stone.
Boo Scare!
Boo has to scare all the monsters and get to Sully but better watch out for CDA Agents.
Slam-a-Door
Sully has to slam the door behind the enimies and rescue Mike and Boo.
Community content is available under
CC-BY-SA
unless otherwise noted.