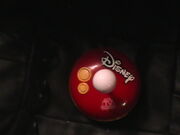 The Disney TV game is a Plug It In & Play TV Game developed by HotGen and published by Jakks Pacific in 2004.
A GameKey version was released a year later in 2005, in a Super GameKey Combo Pack with a GameKey.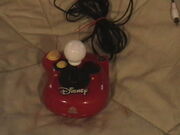 Lion King: Simba and the Tree of Trials
Prepare Simba for the Throne. Puzzle game similar to Columns, Candy Crush, and Tetris.
Donald Duck: Donald's Golf Tournament
Donald's Golf Tournament is just a golf video game.
Lion King: Timon to the Rescue
Pumbaa is sleepwalking, and Timon has to guide him through a dangerous swampland to reach the goal.
Lilo & Stitch: Stitch's Search for Paradise
Stitch has fallen into a cave while looking through Lilo's photo collection & now Stitch has to find them before Lilo comes home.
Aladdin: Aladdin and the 5 Gems of Agrabah
Princess Jasmine has been kidnapped & held for ransom, Aladdin must find the fabled five gems of Agrabah to free her. Side-scrolling platform game.
A Super GameKey Combo Pack was released a year later, with the GameKey containing these games:
Disney Sports Tennis
A basic Disney-themed tennis game
Disney Face Chase
A puzzle game, where the player matches pictures of famous Disney characters, such as Mickey Mouse.
In Aladdin and the 5 Gems if Agrabah, Aladdin's sprites are taken directly from the Aladdin SNES game, while the extra life icon is taken from the Sega Genesis game.
Community content is available under
CC-BY-SA
unless otherwise noted.