GameKeys are expansion modules made by Jakks Pacific for the purpose of adding games to GameKey-ready entries in their Plug It In & Play TV Games product line.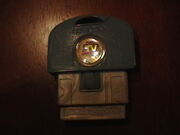 The GameKey concept was first announced at the 2005 International Toy Fair, and the first products were released in July 2005 for the retail price of $9.99.
Several value and combo packs were released, such as the Super GameKey Combo Pack, which included a GameKey-ready controller and one GameKey, and the Super Value GameKey Mega Pack, which include a GameKey-ready controller and two GameKeys. Super Value Power Packs were also released which contain GameKey-ready controller, GameKey and the Universal Power Adapter.
GameKeys were mainly marketed for the Namco Ms. Pac-Man controller, but there also existed GameKeys for other TV Games manufactured by Jakks Pacific, including Nicktoons, Star Wars, and Disney. There were also GameKeys that never saw release, such as Winnie the Pooh & Fantastic Four.
Some GameKeys (such as Dora the Explorer, Nicktoons and Disney Princess) were sold individually, while others (such as Star Wars, Disney and Spider-Man) were only available through the value and combo packs.
GameKeys were discontinued in mid-2006 in a bid to save money. Only ten GameKeys were ever released.
List Of Released GameKeys
Edit
If a GameKey is inserted into the incorrect controller, a splash screen will appear that says the following:
"This GameKey™ is only meant for use with the [controller type] TV games controller. Please turn off the unit and remove the GameKey™."
and have a logo of the specified GameKey and controller type (ex. "NK" for Nickelodeon).
Community content is available under
CC-BY-SA
unless otherwise noted.