Welcome to the Plug & Play TV Games Wiki, the free TV Game database that anyone can edit! Just what is a TV Game, you ask?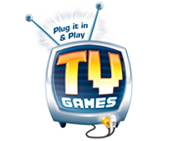 Well, a TV Game is a dedicated, all-in-one unit, usually running on batteries, that plugs directly into your TV. The major manufacturer of these is Jakks Pacific, although they're also manufactured by companies such as Radica, Tiger Electronics, Majesco, and Techno Source.

For more than 15 years, TV games were games that contain multiple games in one single controller and feature today's hottest video game and entertainment licenses. All that is needed are batteries and a TV - no video game consoles are required. Simply plug the TV games unit into the A/V jacks of any standard television set, turn it on and play! The lightweight, compact all inclusive controller houses a combination of video games with all the hardware and software built right in. This technology allows gaming fans to enjoy a number of video games with just one single purchase.
It seems like every company is coming out with their own version of a plug & play video game system. In 2004 these plug & play games became hugely popular mainly from Jakks Pacific who is the only company that can actually sell these items under the name "Plug & Play". Other companies like Radica have put out "Play TV" and Majesco who sells under the name "TV Arcade" Whether the name is different, the general point is the same! You get several special arcade game hits in 1 small device.
Sorry about the lack of info recently, there were some TV games I do or do not have that I can not cover on this wiki.
About the Wiki
Edit
Founded on April 1, 2011 by the one and only YouTuber rescuehero942, it is the only TV game wiki on the web! We've made articles about Plug & Play TV Games for others to learn about TV games like Jakks Pacific's Plug It In & Play TV Games, Radica's PlayTV, Techno Source's TV Play Power, Majesco's TV Arcade, and Tiger Electronic's Tiger TV Games!
I'm sorry about the quality of most of the photos, my camera has poor picture quality.
Also, don't forget to look at Wiki owner's TV games reviews on his YouTube Channel, named rescuehero942! Click here to go to his YouTube Channel.
Community content is available under
CC-BY-SA
unless otherwise noted.