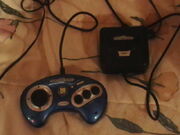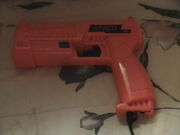 Radica's Sega Genesis PlayTV Legends plug-n-play TV game line that each have one to six Sega Genesis games. They were released in 2005. Each model reassemble the classic Sega Genesis console and controller.
Unfortunately, there are some graphical glitches and distorted audio. But, this system is still a great piece of technology with classic games like "Sonic the Hedgehog" and "Golden Axe" (these 2 games are only on the blue version)
Each game is powered by 4 'AA' batteries or a D.C. 6V adapter can be used on each of these.
In Japan, it is called MegaDrive PlayTV and not by Radica. It is distributed through Sega Toys.
Volume 1's controller is in blue and has six classic Sega Genesis games.
Sonic The Hedgehog
Golden Axe
Flicky
Dr. Robotnik's Mean Bean Machine
Altered Beast
Volume 2's Controller is in red and has six more classic Sega titles.
Sonic The Hedgehog 2
The Ooze
Gain Ground
Ecco The Dolphin
Columns
Alex Kidd in the Enchanted Castle
Super Sonic Gold
Edit
Super Sonic Gold released one year later has four classic Sonic the Hedgehog games.
Sonic The Hedgehog
Sonic The Hedgehog 2
Sonic Spinball
Dr. Robotnik's Mean Bean Machine
Street Fighter 2
Edit
Street Fighter 2 PlayTV Legends game uses two six-button controllers and contains two classic Capcom titles for the Sega Genesis.
Street Fighter 2: Special Champion Edition
Ghouls 'n Ghosts
The Menacer is a light gun that has the Menacer 6-in-1 game cartridge built-in.
Menacer 6-in-1
OutRun 2019
Edit
OutRun 2019 contains the classic racing game for the Sega Genesis, Outrun 2019. The controller also reassembles Radica's Gamester controller for the PlayStation 2.
OutRun 2019
Volumes 1 & 2 can be modded to play standard Sega Genesis cartridges.
Community content is available under
CC-BY-SA
unless otherwise noted.