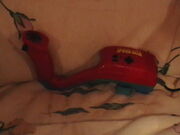 Spider-Man: Web Master is a Plug It In & Play TV Motion game developed by HotGen and published by Jakks Pacific in 2009.
The web-sling controller features a wrist strap that you insert your arm into, A and B buttons and a D-pad.
Spider-Man's greatest foes have returned to wreak havoc. There are four villians to beat, each with three stages.
Rhino
Vulture
Mysterio
Green Goblin
The stages in each level are:
Train Run
Barrage Blast
Rooftop Chase