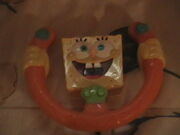 Spongebob Squarepant Bikini Bottom 500
is a TV Motion racing game by Jakks Pacific released in 2009 and was discontiuned in mid-late 2011 along with the rest of the TV motion games in a bid to save money.
The game is simlar to Mario Kart Wii, but Spongebob Style. You move the controller to move. and A to accererate. You take damage if you hit an obstitcle. There's UltiMotion events that you have to take action. Weapons to knock out the other racers. Before the race starts, there's a minigame to fix up the car (a.k.a. boat).
There are fifteen races, three races each in these areas:
Community content is available under
CC-BY-SA
unless otherwise noted.