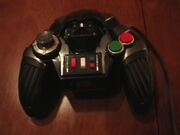 Star Wars: Revenge of the Sith
is a TV game developed by Griptonite Games and published by Jakks Pacific in 2005, based on the Star Wars Episode III: Revenge of the Sith movie. It features five built-in games and a GameKey enabled version, GameKey and wireless version later released.
The controller was later re-released in 2009 under the name Star Wars: Classic Battles.
Limited Editon Releases
Edit
Besides the Darth Vader TV Game, there were three limited editon controllers later released:
Built-in games
Edit
Droid Invasion
Droid Invasion is a game where Obi-Wan ricochets the blaster bolts with his lightsaber onto the droids, to prevent your death. This game is similar to Breakout.
Coruscant Attack
Coruscant Attack is a game where a Jedi Starfighter shoots down droid fighters. This game is similar to Asteroids.
Grievous Onslaught
Anakin tries to avoid droids and reach the goal.
Gunship Battle
A Gunship tries to get the clone troopers to the droid's base.
Utapau Chase
Obi-Wan is on his giant lizard and tries to aviod obstacles to reach Grievous.
Community content is available under
CC-BY-SA
unless otherwise noted.