Nickelodeon's Teenage Mutant Ninja Turtles: Heroes in a Half Shell
is a Plug & Play Hero Portal developed by HotGen and released by Jakks Pacific in 2014. Using toy figures similar to Skylanders, you place a figure on the portal base unit to play as in the game.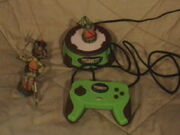 The game is a beat em' up with six stages, and each stage has three mini-game challenges. Some mini-games can only be accessed with a certain figure. Mini-games include ninja training, flying through mutagen clouds, driving to stop an enemy, and attacking footclans.
There are four different medals you can earn by clearing the stage and minigames: Bronze, Silver, Gold and Platinum. Collecting all the mutagen canisters in the game unlocks the Ultimate Hero Mode.
A boss battle against Shredder is encountered at the end of Stage 3. The game does not have a final boss in Stage 6, you just fight off hordes of footclans and then the mutagen cloud disappears and the game is complete.
Minigames
Edit
Dojo Mojo
Your ninja turtle must train for battles, and the turtle has to punch and kick the objects flying towards him. Raphael or Leonardo is required for this mission.
Mouser Trap
Michelangelo must run across the sewer while avoiding obstacles and save the lair from being discovered. Michelangelo is required for this mission.
Dragon's Den
The player must defeat the purple dragons by shooting at them. Donatello, Splinter or Casey Jones is required for this mission.
Included in starter pack:
Included in figure pack 1:
Included in figure pack 2:
A special bonus pack exclusive to Kmart stores include the portal unit and all four turtles.
This is one of three Hero Portals introduced by Jakks Pacific in 2014. Other Hero Portals include
DC Comics Super Heroes: The Watchtower
and
Power Rangers Super Megaforce: Legendary Power
. A forth Hero Portal featuring
DreamWorks Dragons
was released in late November.
Intruder Alert!
Mutagen Mystery
Shredder's Secret
Street Smarts
Turtles On The Town
Kraang Showdown
Community content is available under
CC-BY-SA
unless otherwise noted.