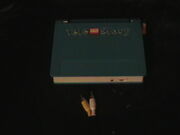 The
TeleStory Interactive Storybook System
is a plug-n-play storybook with changable book cartridges made by Jakks Pacific released in 2006. it has a removable A/V Cable, Along with a headphone jack with volume control to listen without a television, and four colored shape buttons which make animations in the story play. TeleStory was discontiuned in late 2007 due to low sales.
Telestory's slogan is Change TV Hour into Reading Power!
List of Cartridges
Edit
There are about seven Telestory cartridges released (carrying case was also released).
SpongeBob SquarePants: Ice-Cream Dreams/Stop the Presses!
Dora the Explorer: At the Carnival/Dora Goes to School
Thomas & Friends: Thomas Visits the Toy Shop/Thomas' Milkshake Mix
Winnie the Pooh: Bounce, Tigger, Bounce/Pooh's Honey Tree
Power Rangers Mystic Force: Whispering Voices/Code Busters
Cinderella: Cinderella/Beauties in Bloom
The Lion King: The Lion King/Simba's Pride
After it was discontinued, the official TeleStory website remained online for years with no other updates, until it was finally taken down permanently sometime in 2011.
Community content is available under
CC-BY-SA
unless otherwise noted.