The
Toy Story Mania Point-N-Shoot video game
is a deluxe TV game by Jakks Pacific, released in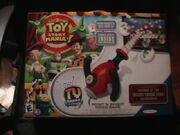 late August 2010 and was discontiuned at the end of the year . The Game features 3-D Glasses, which are called Infini-D Glasses.
The game is most likely the same as the one at Disney's Hollywood Studios. It has the original games.
Before the game starts, there's a target practice level where you shoot darts at the targets. Then it starts.
Games built in
Edit
Ham & Eggs
Bo Peep's Baaa-loon Pop
Green Army Men Shoot Camp
Buzz Lightyear's Flying Tossers
Woody's Rootin' Tootin' Shootin' Gallery