Wheel of Fortune
is a TV game based upon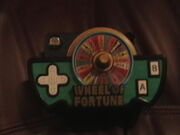 the hit game show Wheel of Fortune. It was released in 2005 by Jakks Pacific. The game is just Wheel of Fortune but it features a spinning wheel. You can either spin with the wheel or press B for a random spin.
There were 3 types of difficulty: Easy(6 Turns), Normal(5 Turns), and Hard(4 Turns).
The game featured 3 Modes
- Gameshow (Standard Show with the amount of turns refilling every puzzle)
- Endurance (Similar to Gameshow, except that every puzzle, the turns do not get refilled. The Run ends when you lose all turns)
- Multiplayer (2-Player or 3-Player with a spin-off to start it. Whenever a player guesses a letter wrong or Lands on Lose a Turn or Bankrupt, the next player gets the turn. Highest amount goes to play for the Bonus Puzzle)
The game has 720 puzzles each in 35 categories.
A GameKey version was released but no GameKey was ever released. It said to Unlock More Puzzles.
2nd Editon
Edit
A Second version was released in 2006, called Wheel of Fortune: 2nd Editon. It has more puzzles than the original Wheel of Fortune game but with a much more different D-Pad.
Community content is available under
CC-BY-SA
unless otherwise noted.