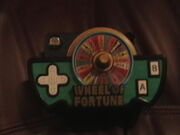 Wheel of Fortune is a TV game based upon the hit game show Wheel of Fortune. It was released in 2005 by Jakks Pacific. The game is just Wheel of Fortune but it features a spinning wheel. You can either spin with the wheel or press B for a random spin.
There were 3 types of difficulty: Easy(6 Turns), Normal(5 Turns), and Hard(4 Turns).
The game featured 3 Modes
- Gameshow (Standard Show with the amount of turns refilling every puzzle. It ends after the bonus round or when all turns are lost.)
- Endurance (Similar to Gameshow, except that every puzzle, the turns do not get refilled. The Run ends when you lose all turns, and if the player does not lose all turns by the end of the bonus round, round one restarts.)
- Multiplayer (2-Player or 3-Player with a spin-off to start it. Whenever a player guesses a letter wrong or Lands on Lose a Turn or Bankrupt, the next player gets the turn. Highest amount goes to play for the Bonus Puzzle)
The game has 720 puzzles each in 35 categories.
A GameKey version was released but no GameKey was ever released. It said to Unlock More Puzzles.
2nd Editon
Edit
A Second version was released in 2006, called Wheel of Fortune: 2nd Editon. It has more puzzles than the original Wheel of Fortune game but with a much more different controller. There is no longer a D-Pad, meaning the wheel is now required to choose profiles, game modes and letters, in addition to spinning the wheel. Graphics were also updated.
Community content is available under
CC-BY-SA
unless otherwise noted.